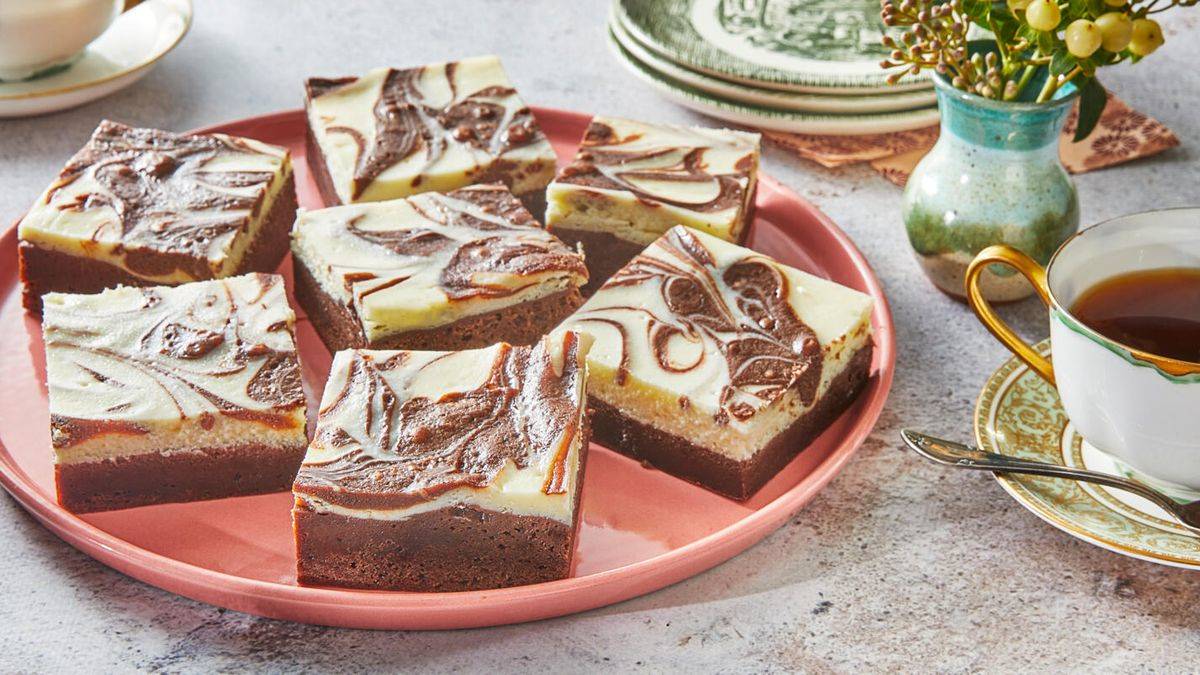 Cheesecake brownies are proof that you can, in fact, make brownies even better. (Doesn't make better?) This sweet treat tops fudge-y with fluffy cheesecake, then swirls the two together so you get a little of both in every bite. Here's a trick to keep the layers flat and even: Freeze the bottom layer of brownie batter in the pan for a few minutes before adding the cheesecake, swirling, and baking. Add these to your list of  or enjoy these bars anytime the craving strikes for a .  
How do you know when cheesecake brownies are done?
As the bake time winds down, the best way to determine if brownies are done is by grabbing a toothpick. Insert it in the middle of the brownies and pull it out. If batter covers the pick, the brownies need to bake for a bit longer. However, if just a few moist crumbs are attached, the brownies are done. 
What can you add to cheesecake brownies?
For festive holiday flair, sprinkle chopped peppermints over the top of the finished brownies. Or top with toasted, chopped nuts for some crunch any time of year.
Do cheesecake brownies need to be refrigerated?
Any dessert with a fair amount of dairy, like cream cheese, should be refrigerated in an airtight container once baked and cooled. Luckily, these brownies taste even better when chilled!
What does sour cream add to a cheesecake?
Sour cream lightens the cream cheese and egg mixture for a cheesecake that has a fluffier texture and a bit more tang. That tang is the perfect match for rich, chocolate-y brownies.
What makes a brownie fudgy verses cakey?
Fudgy brownies will have more fat (butter and chocolate) and liquid (eggs) than flour so the brownies stay dense and moist when baked. Cakey brownies have more flour, so they bake up taller and lighter. For cheesecake brownies, fudgy is the best choice: They're sturdy enough to hold that top cheesecake layer and rich enough to balance the cheesecake tang.