If you want to decorate for Halloween without breaking the bank, get festive with one of these 25+ recycled Halloween crafts!
Halloween is the time of year when the ghosts come out to play and our creative spirits rise from the depths.
It's all about , candy, and, of course, spine-chilling decorations. But here's a thought: why not blend the spooky spirit of Halloween with the magic of recycling?
That's right, I'm talking about recycled Halloween crafts that turn 'trash' into 'treasure.'
Imagine turning the mundane items cluttering up your home into the basis of your . Old t-shirts, empty milk jugs, and wine bottles – the possibilities are as endless as they are eerie.
isn't just about being eco-friendly (though that's a big win); it's about seeing the hidden potential in everyday objects. It's about challenging your creativity
In this post, I'm thrilled to share with you a cauldron's worth of recycled Halloween craft ideas.
Whether you're decking out your haunt for a ghoulish gathering or just looking to add a touch of the macabre to your everyday ambiance, these projects are your ticket to a frightfully fun time.
They're proof that with a little imagination, anything can become a part of your .
So, grab your , summon your inner witch or warlock, and get ready to transform the ordinary into the extraordinary.
And don't forget – I'm dying to know which craft bewitches you the most, so share your favorites in the comments. Let the hauntingly creative fun begin!
Recycled Halloween Crafts
Tap into this treasure trove of over 25 innovative recycled Halloween craft ideas - infuse your space with a spooky flair without breaking the bank.
1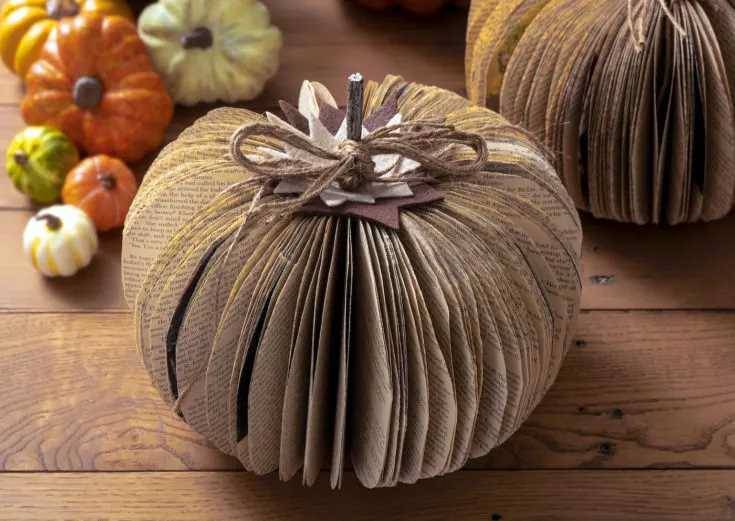 Book pages are used in so many decorations and work with a variety of decor. In this tutorial, make a fun fall book page pumpkin!
2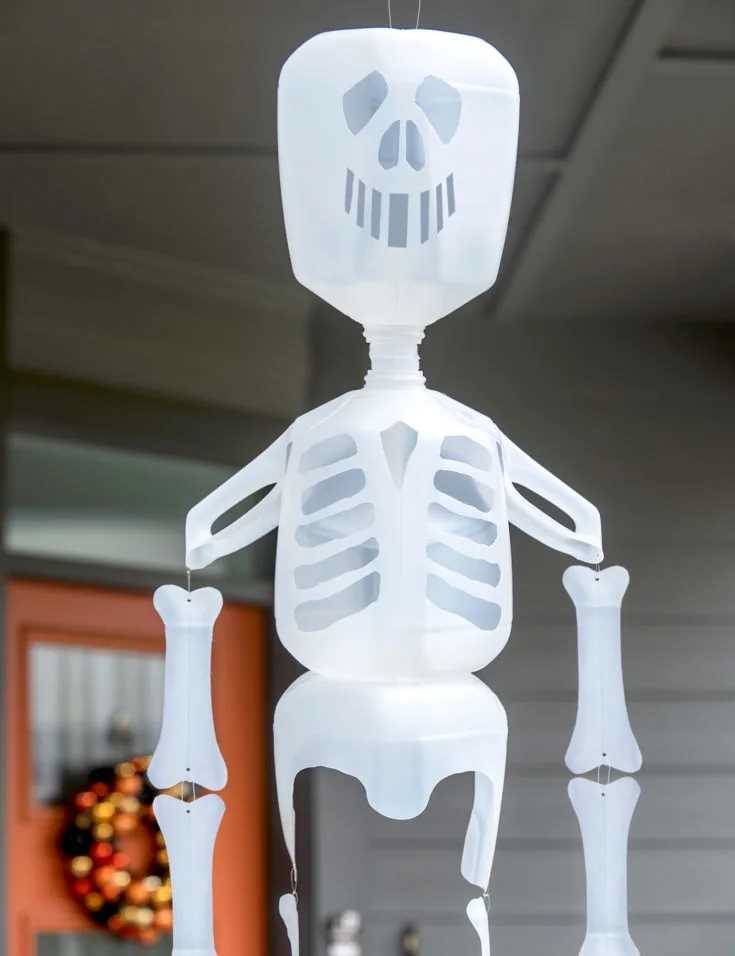 Learn how to make a skeleton for your Halloween decor out of old milk jugs! This is a budget friendly holiday activity.
3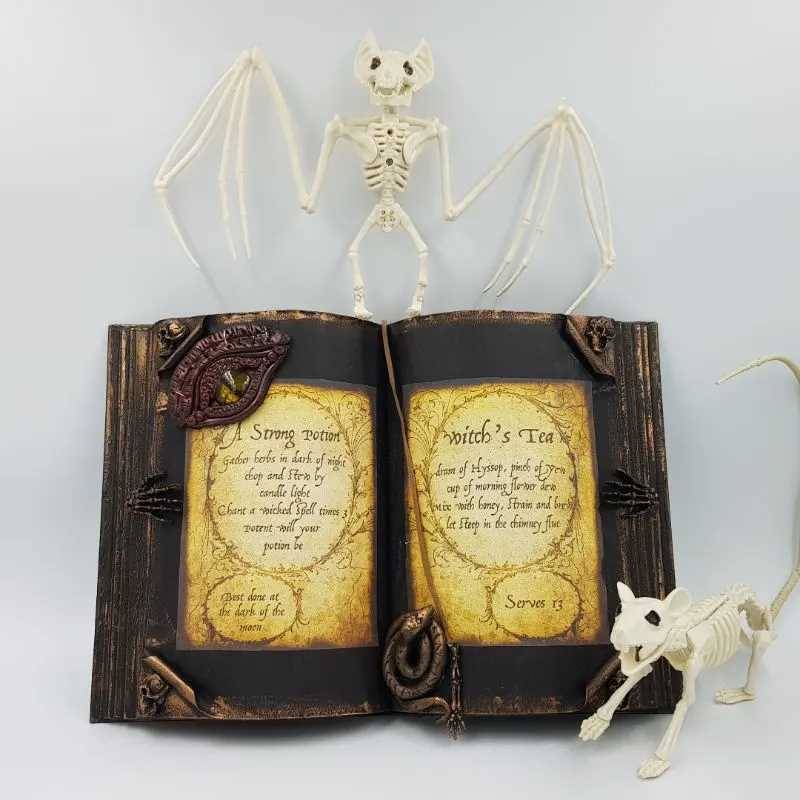 Photo Credit:
uniquecreationsbyanita.com
Create a creepy fun spell book to leave open as a decoration. This mixed media creation starts as a regular book you no longer want!
4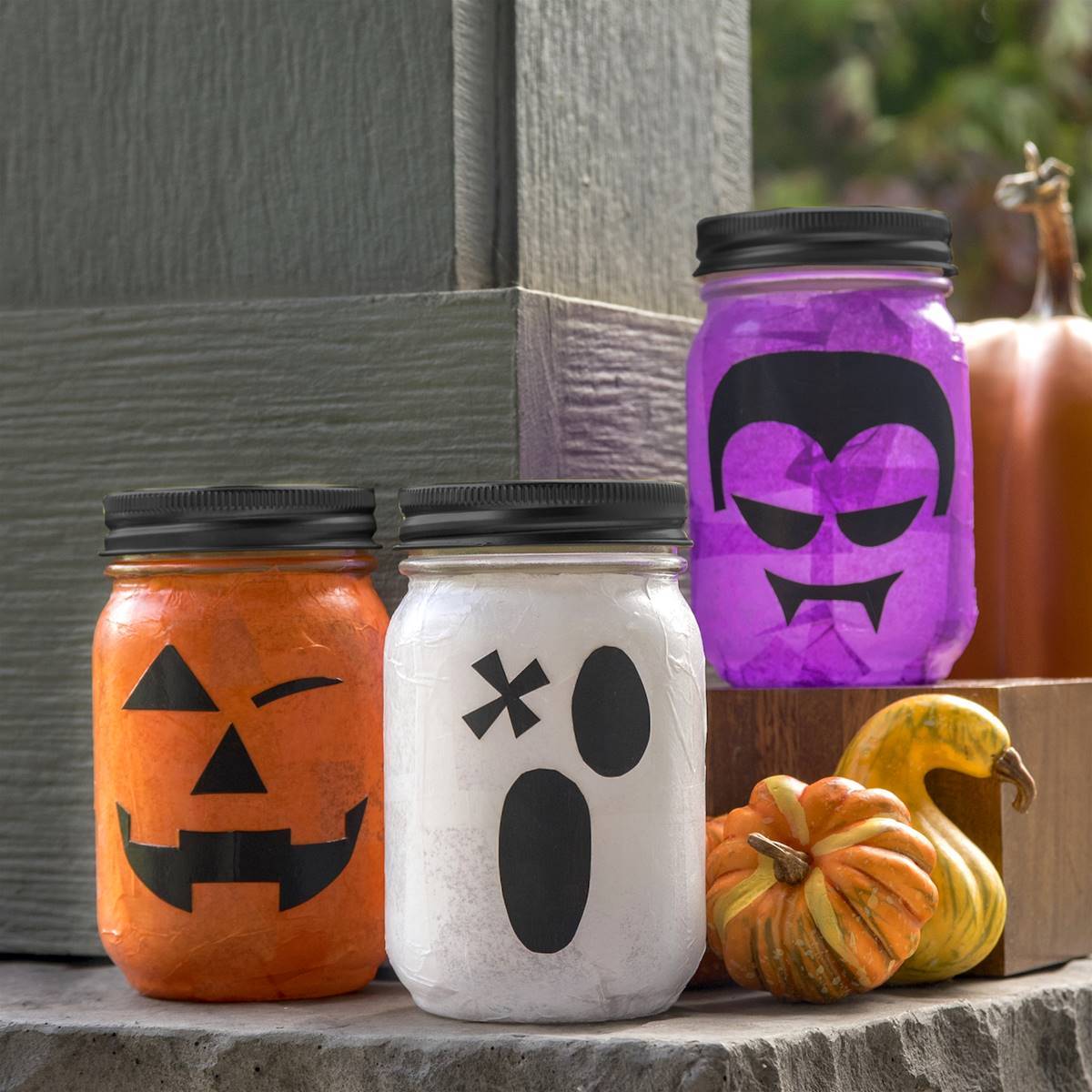 Photo Credit:
Steve Carrell
You can use any recycled glass jars along with tissue paper and decoupage medium to make these festive lanterns.
5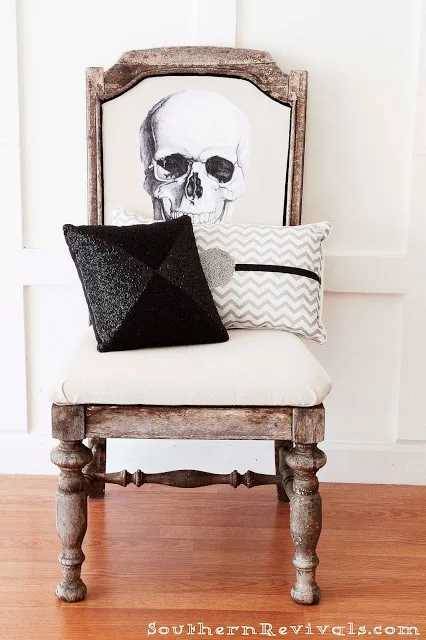 Photo Credit:
www.southernrevivals.com
Do you have a chair that is beyond repair? Upcycle it into a fun . This is a really fun idea!
6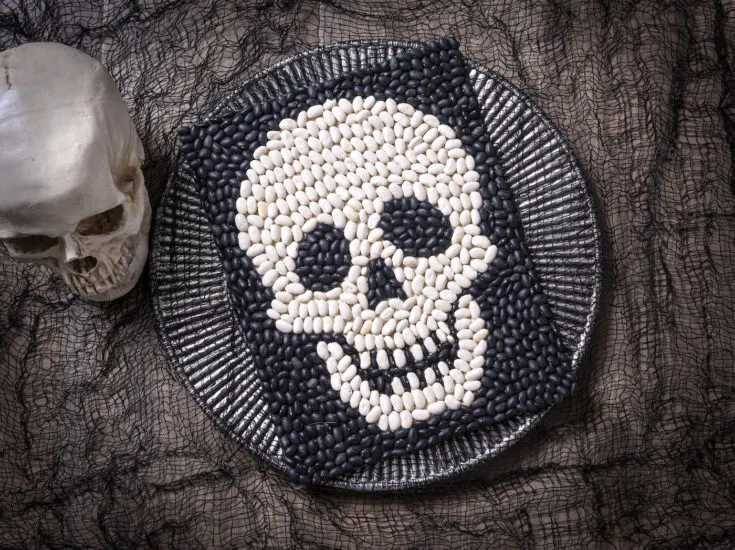 Skull Bean Art for Halloween Decor
Learn how to make the coolest skull bean art for spooky decorating! It's made with real beans and cardboard from the recycling bin. There's a free template included.
7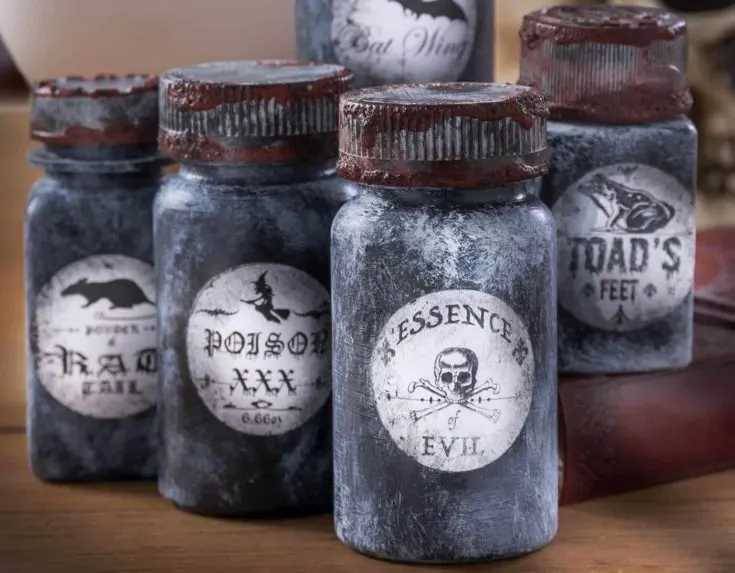 Photo Credit:
Steve Carrell
Learn how to make these cool Halloween potion bottles from old pill bottles! These would look cool surrounding the spell book earlier in this post. Bonus? You'll get free printables in this post, too.
8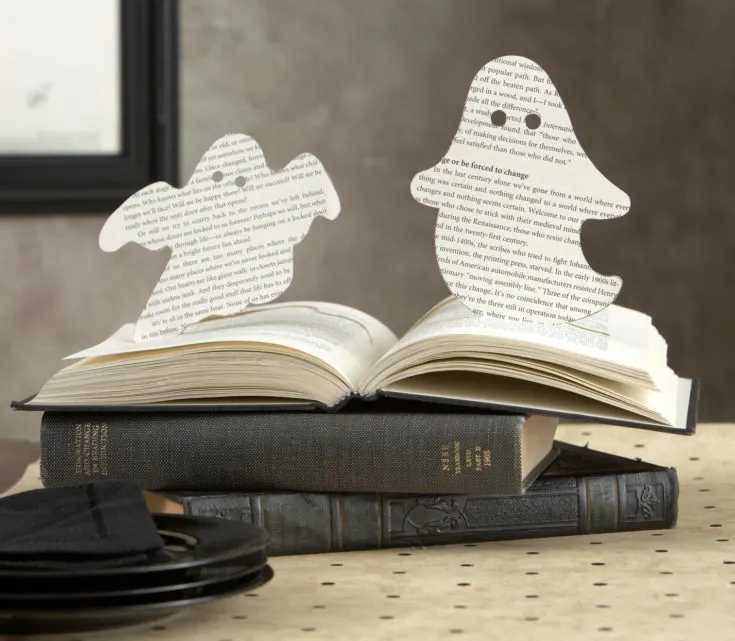 Photo Credit:
www.bhg.com
You can make an awesome Halloween centerpiece out of an old torn or damaged book. To make, cut two basic shapes from pages in the middle of a book, leaving the bottoms attached to the pages. It's a perfect haunting centerpiece.
9
Learn how to make a that is perfect for your Halloween decor! It's an easy and budget friendly holiday project.
10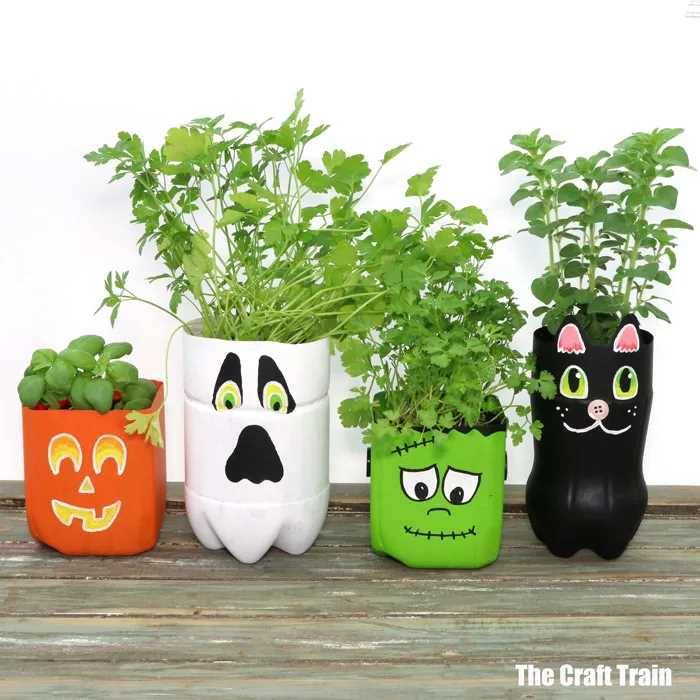 Photo Credit:
www.thecrafttrain.com
Here's a fun upcycling idea: make a Halloween herb garden from recycled planters! You can use any characters that you like, and both kids and adults love this project.
11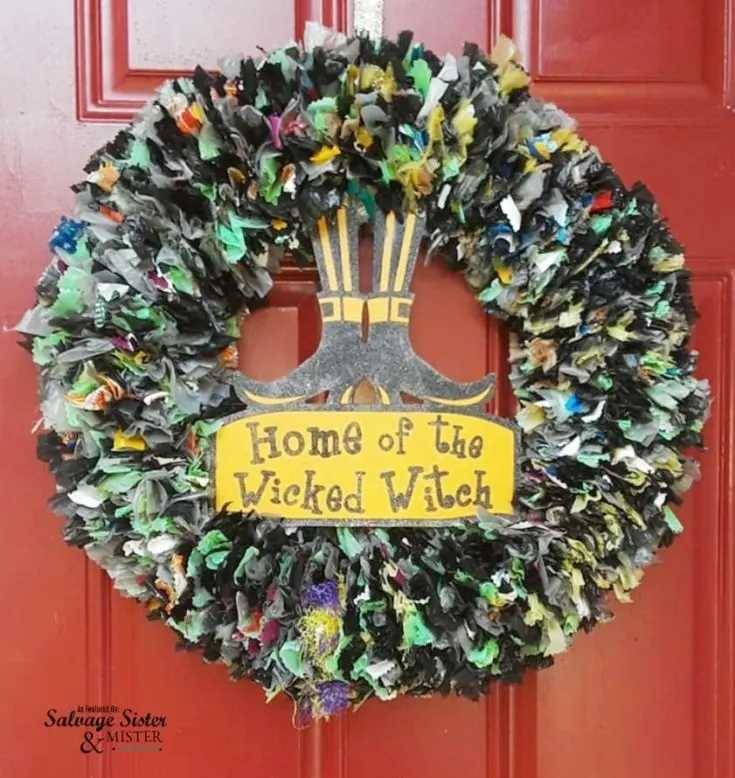 Photo Credit:
www.salvagesisterandmister.com
If you have a bag of plastic bags like I do, you can make this perfect recycled ! It's nice if you have bags of a lot of different colors, including black.
12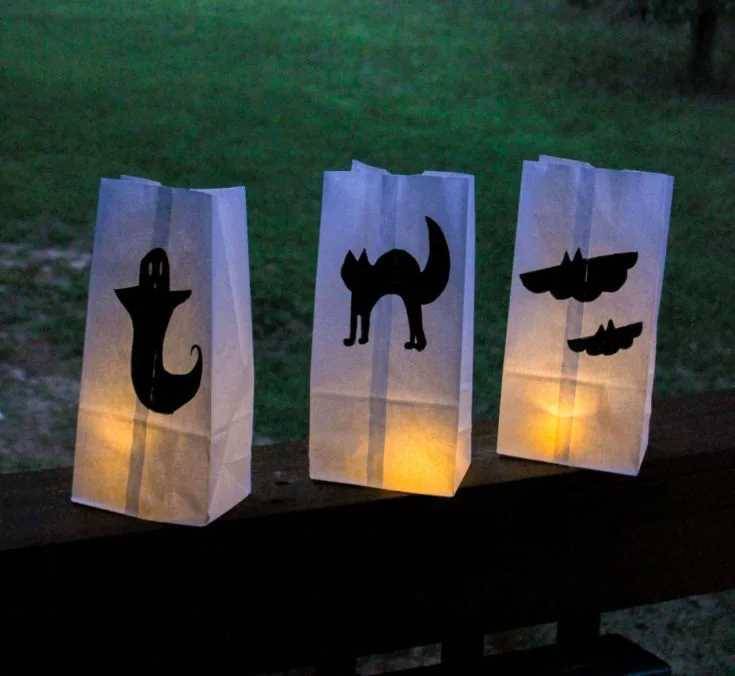 Learn how to make these cute paper luminaries for Halloween using bags and permanent markers! Free templates included.
13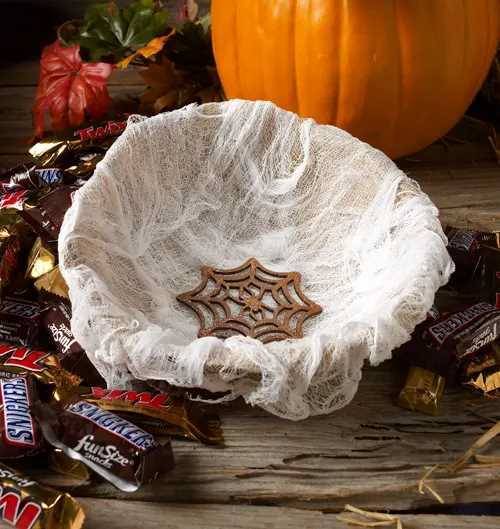 Recycled Gothic Halloween Bowl
Photo Credit:
plaidonline.com
Use old paper bags and Mod Podge Stiffy to create a gothic inspired candy bowl. Perfect for holding Halloween candy or anything else you like.
14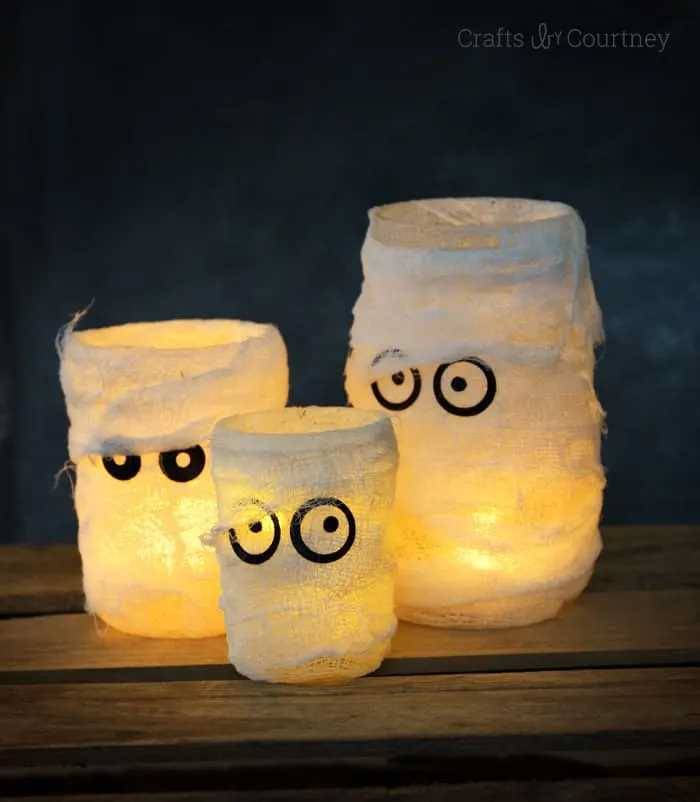 Photo Credit:
Courtney Sanchez
You can make these Halloween luminaries on a budget, in three steps! Kids will love these mummy mason jars too.
15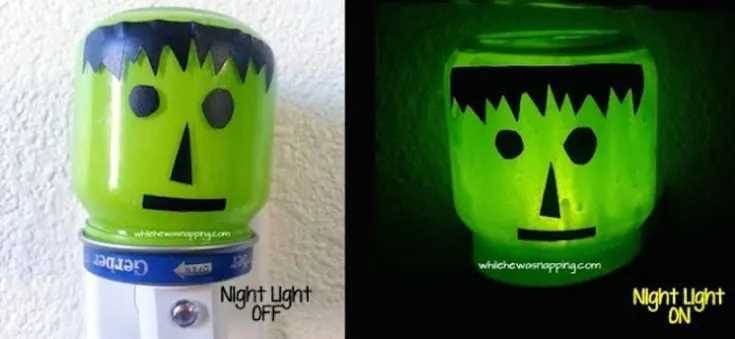 Photo Credit:
www.whilehewasnapping.com
Turn old baby food jars into the most adorable night lights ever. Will you be my Frankenstein? I absolutely love this Halloween night light!
16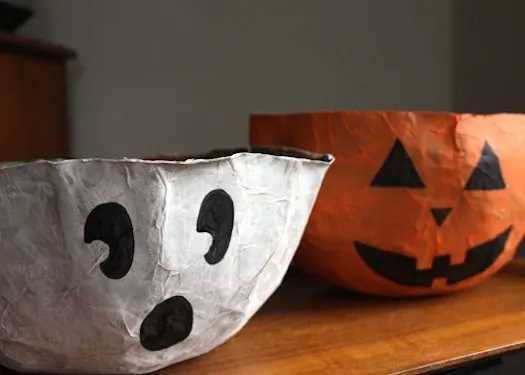 Photo Credit:
thelongthread.com
These cute Halloween bowls are easy to make with paper bags and acrylic craft paint. You can use these cute bowls for trick or treating.
17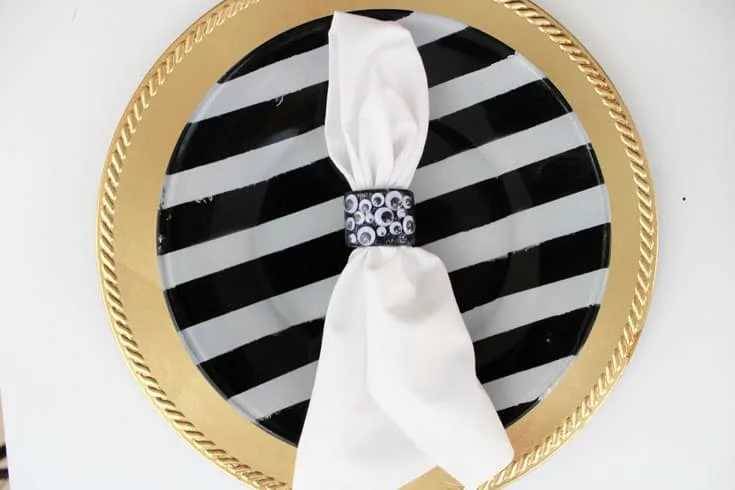 Photo Credit:
Heather Dean
These monster themed Halloween napkin rings are fun for both adults and children to make! Perfect for a spooky soirée, holiday kids' craft, or other fun celebration.
18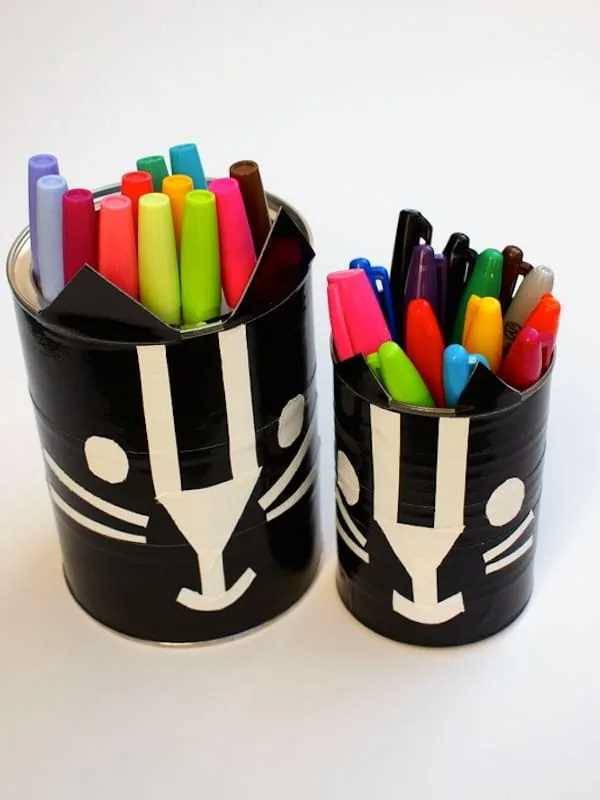 Need some duct tape crafts that are perfect for Halloween? Start with this recycled container – kids will love it, and it's easy for any age.
19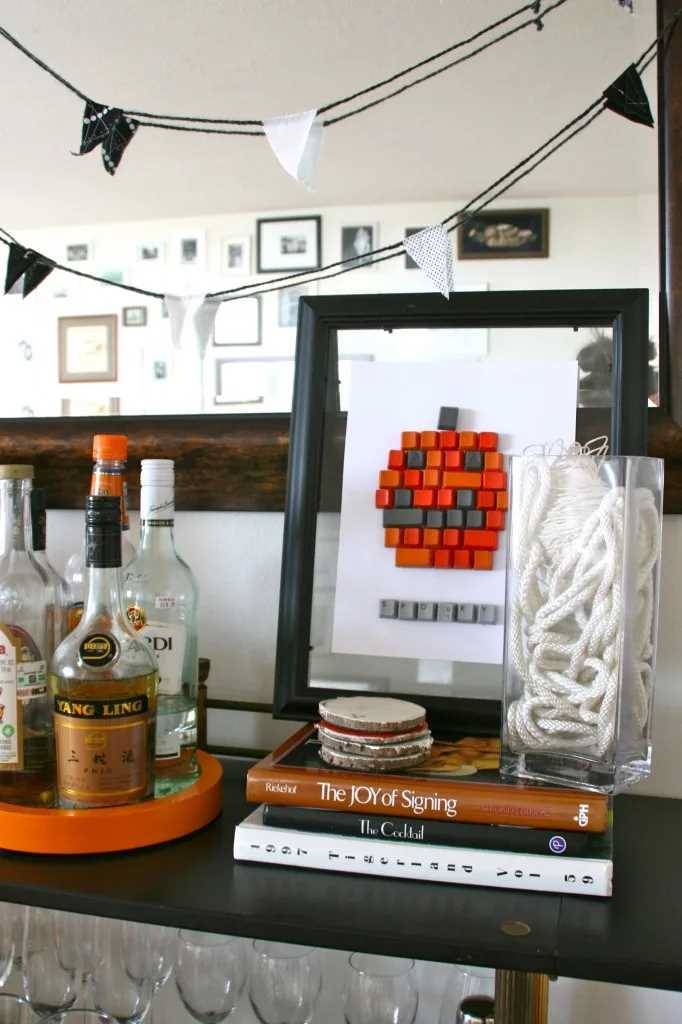 Photo Credit:
www.creatingreallyawesomefunthings.com
Plenty of thrift stores have old keyboards – and you can use the keys to make a fun pumpkin! I'm wondering what other Halloween crafts I can make out of keys . . .
20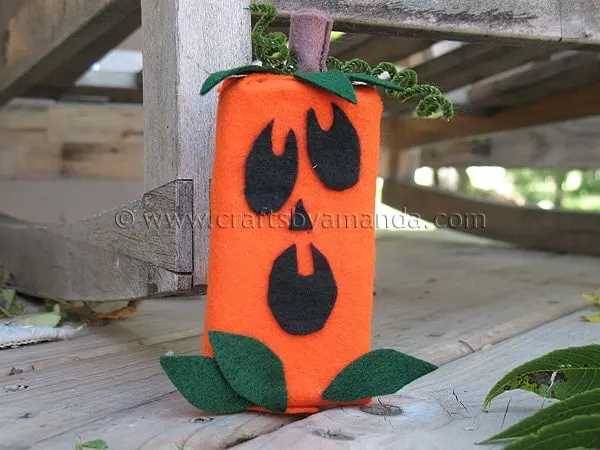 Photo Credit:
Amanda Formaro
Turn an empty kid's juice box into a fun pumpkin decoration for Halloween. This would be a fun Halloween party project. You can also make these with unopened juice boxes, just leave an area open at the top for the straw!
21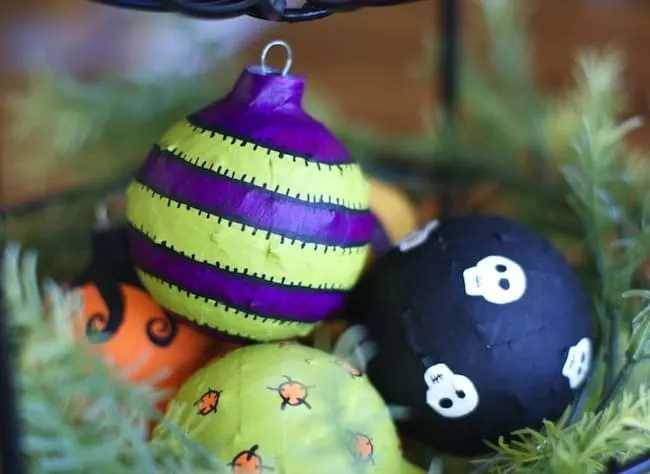 Photo Credit:
modpodgerocksblog.com
In this budget friendly, recycled Halloween craft, you'll use Mod Podge and old to make these cool Halloween ornaments!
22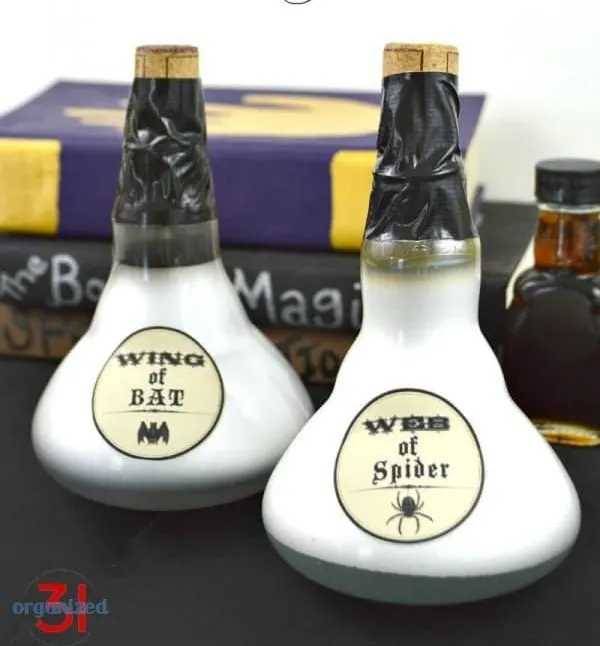 Photo Credit:
organized31.com
I can't believe these are just burned out flood light bulbs! Such a fun idea. These upcycled potion bottles make great Halloween decorations, party decorations, or props for imaginative play.
23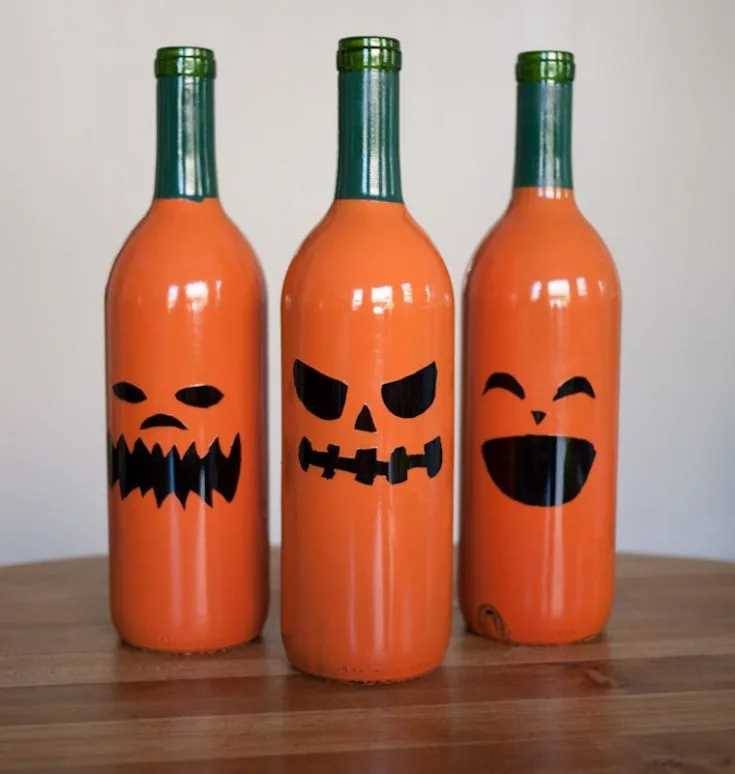 Photo Credit:
www.instructables.com
Don't throw those old wine bottles away – add paint to turn them into pumpkin creatures. You can also add wine bottle lights to turn them into lanterns.
24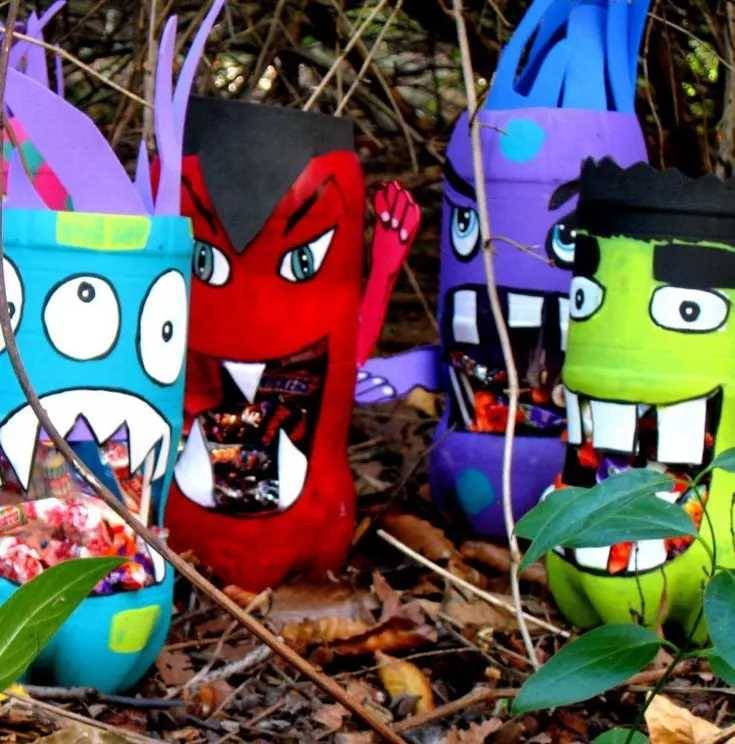 Photo Credit:
www.craftberrybush.com
Use old plastic bottles and your favorite paint colors to make these candy holding monsters. Warning that these Halloween creatures are really hungry and they love sugar!
25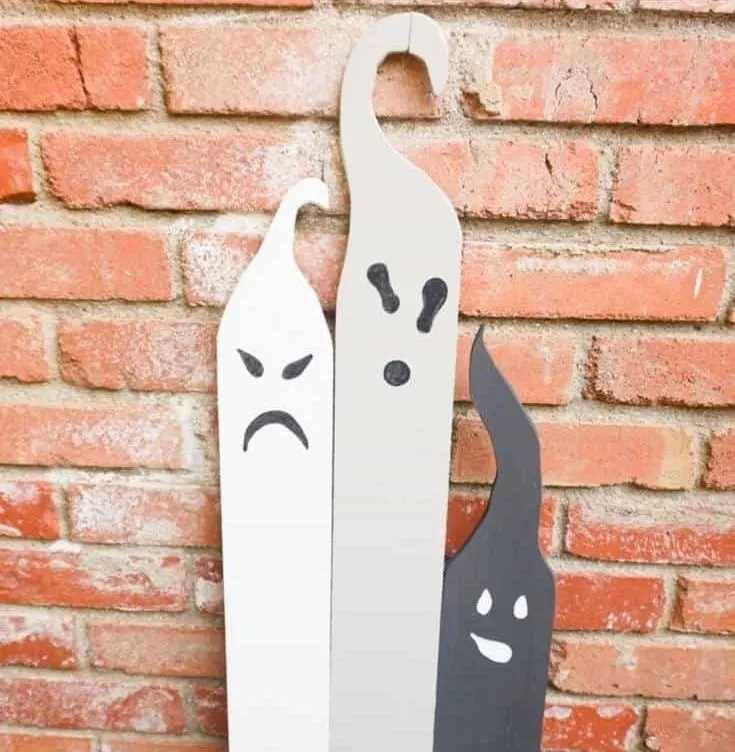 Photo Credit:
happiestcamper.com
Turn leftover fence pieces into outdoor Halloween decorations! Just use a jigsaw to create some unique shapes and paint them.
26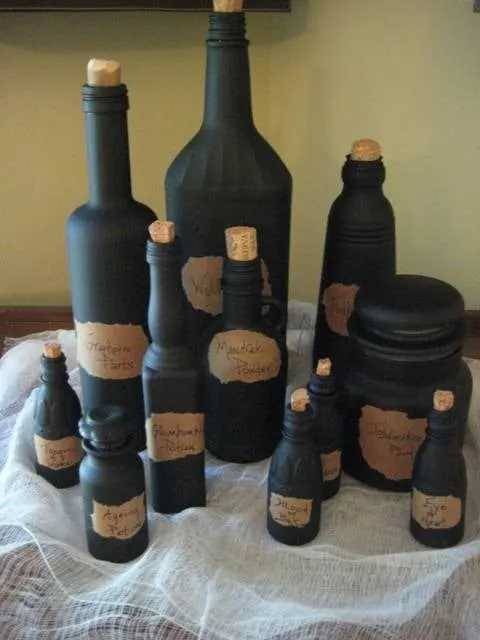 Photo Credit:
www.instructables.com
Use an assortment of old bottles along with matte black paint to create these potion bottles. They make a nice Halloween display when grouped together on a tray.
27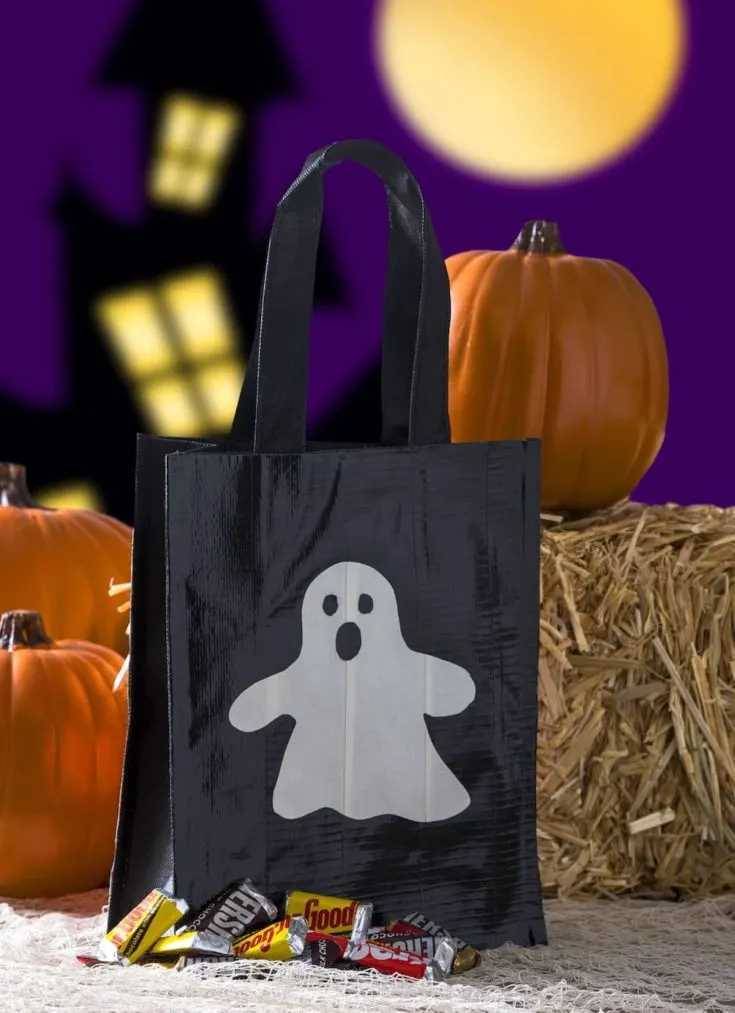 Photo Credit:
Steve Carrell
Learn how to make this EASY DIY trick or treat bag – two ways – with Duck Tape! This ghost version glows in the dark!
28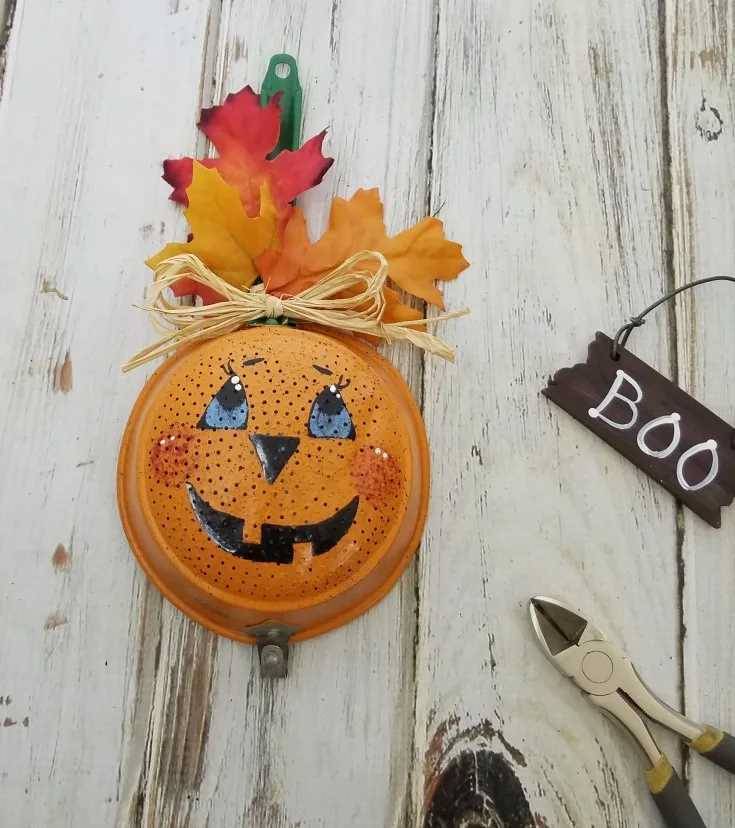 Photo Credit:
mixedkreations.com
An old metal strainer gets a new life as a jack-o-lantern sign or wall art! Add some protective sealer and you can throw this recycled Halloween craft on your front door.
29
Make a mini DIY pinata using a toilet paper roll and some creativity! This is so fun for Halloween, but can be adapted to other occasions and holidays.
30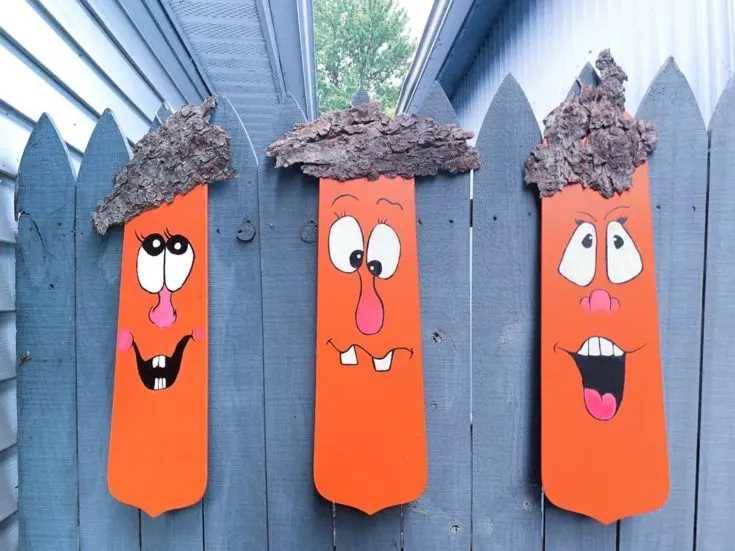 Photo Credit:
hungaricanjourney.com
Can you guess what these cute pumpkins are made from? Ceiling fan blades! Don't throw them out, create some really cute fan blade art for Halloween.
---
If you enjoyed these cute Halloween recycled projects, I'd love for you to check out these other ideas: