'Can't walk past a mirror without looking:' Army veteran receives eye, partial face transplant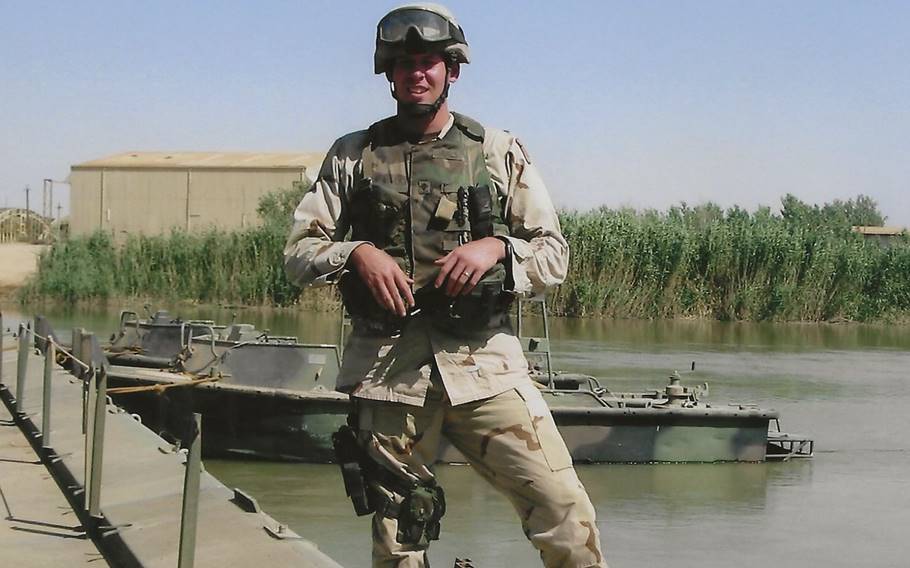 Undated photo of Aaron James when he was in the Army National Guard. James served for 10 years and recently received a whole-eye and partial face transplant. (Provided by the James family)
WASHINGTON — Aaron James and doctors at NYU Langone Health on Thursday showed off the results of his eye and partial face transplant.
On June 10, 2021, James was working in Hot Springs, Ark., as a high voltage lineman when he suffered an electrical accident and withstood 7,200 volts of electric shock when his face touched live wiring. James had a range of injuries including the loss of his left eye, his dominant left arm below the elbow, his entire nose and lips, front teeth, left cheek area and chin down to the bone.
"Most individuals that I've experienced in medicine that sustain that type of injury rarely ever survive," said Dr. Eduardo Rodriguez, the lead surgeon on James' case at the hospital. "Aaron is not a guy you're going to keep down. He is a fighter."
James said he joined the Army National Guard in Arkansas at 18. During his 10 years of service, he was deployed to Kuwait in 1999, Egypt in 2002 and Iraq in 2004.
After his accident, James said he initially received care at the burn center at Hillcrest Medical Center in Tulsa, Okla., where he was in a coma for four weeks. He was then transferred to Parkland Memorial Hospital in Dallas, Texas.
Doctors at NYU were introduced to James' case two months after the injury, providing guidance and communicating with specialists at Parkland.
About a year after his accident, James had his first clinical appointment at NYU for an initial evaluation for the transplant. He cleared all approvals and was officially listed as a potential recipient in February 2023 with the United Network for Organ Sharing, or UNOS, the private, nonprofit organization that manages the nation's organ transplant system.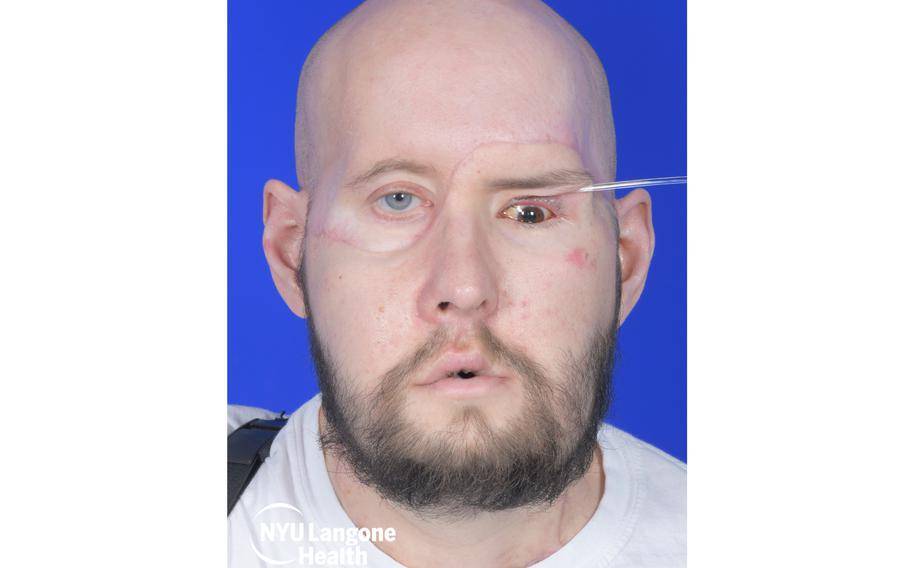 Army National Guard veteran Aaron James in an undated photo after receiving whole-eye and partial face transplant surgery on May 27, 2023. (NYU Langone Health)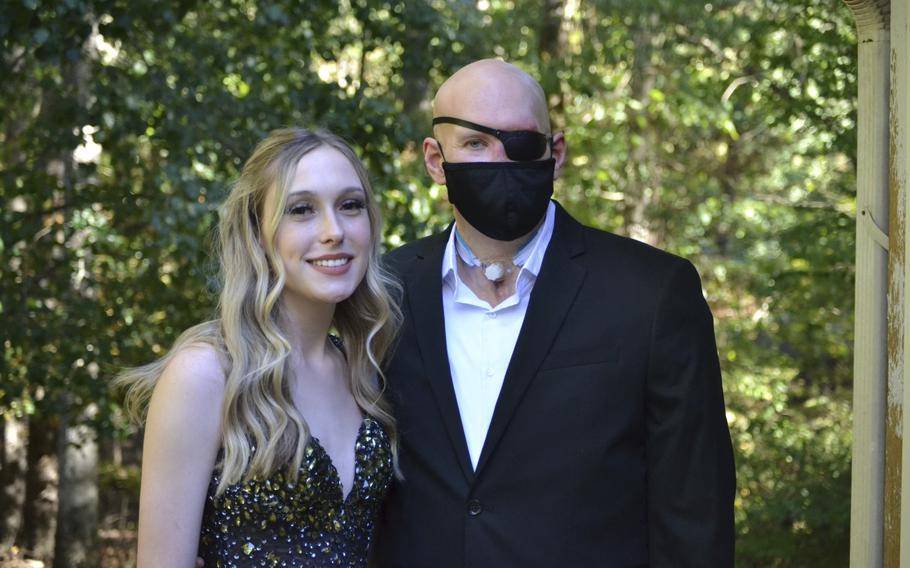 This family photo shows Aaron James and his daughter, Allie, in September 2022. ()
The effort to find a donor for James was led by LiveOnNY, the organ procurement organization for the greater New York metropolitan area. Three months later, coordinators with LiveOnNY found a match at another hospital in New York City.
The surgery was performed on May 27 and lasted approximately 21 hours. More than 140 surgeons, nurses and health care professionals were involved.
But James said he felt very little pain, if any, following the operation. He admitted that before the transplant, his confidence was a "little low."
"Since the transplant, I tell people I can't walk past a mirror without looking at it," James said. "It's made me stand up taller. It's great now."
James spent 17 days in the intensive care unit at NYU Langone and was discharged to a nearby apartment on July 6 where he continued outpatient rehabilitation including physical, occupational and speech therapy.
He returned to Hot Springs on Sept. 14 with his wife and daughter. James returns to New York City for monthly visits.
Dr. Vaidehi Dedania, a retinal ophthalmology specialist at the hospital, conducted tests on the donor eye to determine it was healthy, and continues to observe James during the recovery process. She said the eye looks healthy and based on various tests that they have done it is receiving good blood supply. Early on, they were making certain to keep the eye lubricated, though his body has responded well.
"This is all remarkable and something we haven't seen before," Dedania said. "In regards to vision, we're taking that a day at a time. But we have a lot of hope here."
Rodriguez said James still can't raise his eyelid at this time but is beginning to squint and tighten up his muscles. But he said James has made great strides in his recovery.
James said he is not thinking too far into the future during the recovery process. He is just going forward, one day at a time. He was not hesitant to try the transplant.
"You got to start somewhere. Hopefully, this will kick off something that we can improve on for the next person," he said. "Whether I can see or not, so be it. It is what it is. But hopefully this will help with future cases."
He said June 10, 2021, is a day he doesn't remember but a day he will never forget. Since that day, it has been nothing but a test every step of the way. With strength, family and friends by his side, James feels good.
"I think we beat it," he said.